Introduction:
NetFire is dedicated to providing you with the best possible assistance for any inquiries or issues you may encounter. To ensure a smooth and streamlined support process, we have implemented a robust helpdesk system. This article will guide you on how to effectively use our helpdesk system, including submitting tickets and providing all the necessary details.
Accessing our Helpdesk:
To access our helpdesk, please visit our support portal at https://support.netfire.com. Once there, you will find a user-friendly interface designed to assist you in submitting and tracking your support requests.
When you submit a request via our helpdesk system, an account will be automatically created for you using the email address you provided in the ticket. This allows you to view, edit, and respond to your requests conveniently.
Submitting a Ticket:
Start by navigating to the "Submit a Ticket" page on our support portal.
Fill in your name, email address, and other required contact information in the appropriate fields.
In the "Subject" field, briefly summarize the issue you are facing.
Provide a detailed description of the problem in the "Description" field, including any relevant error messages, systems and users affected, steps to reproduce the issue, and screenshots, if possible.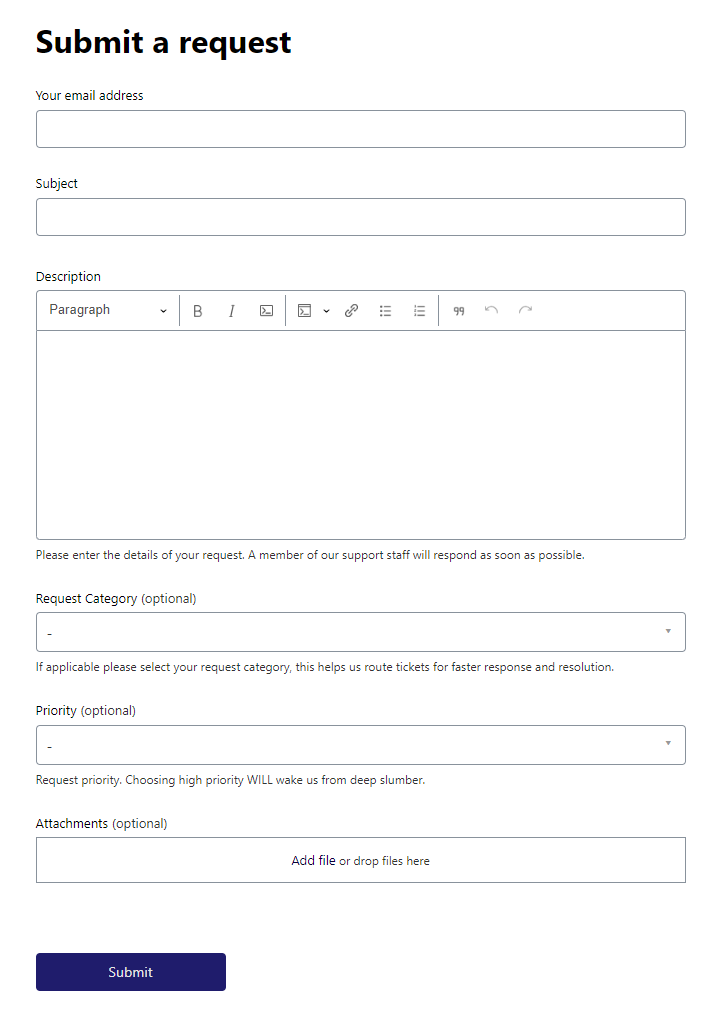 *If your request is urgent, please add the word "Urgent" to the subject line. This helps our team prioritize and escalate critical issues promptly.

Note on Urgent Requests:
We understand that urgent matters can disrupt your workflow or impact a large number of users. To ensure that urgent requests are appropriately addressed, we request that you reserve the "Urgent" designation for critical situations such as system outages or severe service disruptions affecting multiple users' ability to work.
Response Times and Disclaimers:
Our standard business hours are from 9 AM to 6 PM EST, Monday to Friday. During this time, we strive to respond to support requests within 1-2 hours. If you submit a non-emergency request outside of business hours, an agent will respond on the next business day.
For urgent issues outside of business hours, marked as "Urgent" tickets, we provide 24/7 support to address critical system outages or disruptions affecting multiple users. You can reach us via our helpdesk system, email, or phone for assistance. We value your partnership and are committed to delivering exceptional support whenever you need it.
Please note that response times may vary based on your Service Level Agreement (SLA) and the context of the issue. We strive to provide timely assistance to all our customers.